Browse Our Teas
Categories
Shipping Info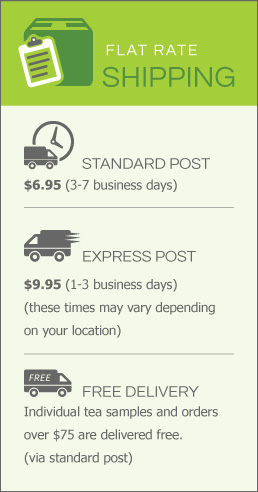 *Applies to Retail Orders Only
Only the Best
✓ Quality Guaranteed
✓ Certified Organic
✓ Safe, Secure Ordering
✓ Fast, Affordable Shipping
✓ Same Day Dispatch
✓ 10% Given Back to Charity
Blue Butterfly Pea Flower Tea
Blue Butterfly Pea Flower Tea
Blue Butterfly Pea Flower Tea
Blue Butterfly Pea Flower Tea
Product Description
Blue Butterfly Pea Flower Tea - Experience this one of a kind and mesmerising herbal treat. Watch the premium whole flowers infuse and change your tea to a marvellously joyful and vibrant blue.
Ingredients: Blue Butterfly Pea Flowers
Brewing Instructions:
Add 1 heaped tsp per cup, let sit for 1-3 mins or longer if preferred
Tip: Add some lemon juice and watch it change to a delightful pink/purple colour!
Taste/Aroma: Grassy aroma when brewing and vegetal taste. Great also served iced. Add a tsp of honey and a squeeze of lemon for the traditional Thai tea experience!
Origin: Thailand
Packaging: All orders are sent in resealable packages for maximum freshness and longevity of flavour.
Try a sample of this tea only $4.95 with FREE shipping. Add to order
Product Reviews
Find Similar Products by Category
Customers also viewed