Browse Our Teas
Categories
Shipping Info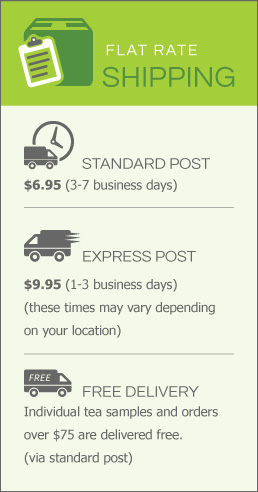 *Applies to Retail Orders Only
Only the Best
✓ Quality Guaranteed
✓ Certified Organic
✓ Safe, Secure Ordering
✓ Fast, Affordable Shipping
✓ Same Day Dispatch
✓ 10% Given Back to Charity
Jiaogulan (Gynostemma) Tea - Certified Organic
Jiaogulan (Gynostemma) Tea - Certified Organic
Jiaogulan (Gynostemma) Tea - Certified Organic
Jiaogulan (Gynostemma) Tea - Certified Organic
Product Description
100% Certified Organic Jiaogulan (Gynostemma) Tea: Hailed as natures miracle herb and often referred to as the "miracle grass" Jiaogulan has been used for centuries in traditional herbal medicine because of it's powerful adaptogenic properties. Adaptogens help to balance, heal and strengthen the entire body and may even help to prevent many serious health conditions.
Ingredients: Certified Organic Jiaogulan (Gynostemma)
*Note: Even though we strive for consistency with all of our products due to seasonality and being grown organically, without the use of any synthetic chemicals/ fertilisers, the appearance and/or taste of herbs may differ from time to time.
Organic Certified: Yes - Why Choose Certified Organic Tea?
Botanical Name: Gynostemma pentaphylum
Taste: Very unique with a lovely natural sweetness, light and refreshing
Caffeine Level: Naturally caffeine free
Country of Origin: China
Serving Suggestion:
Add 1 tsp per 200ml. Brew for 1-3mins with water just below the boil. Adjust to your liking. You can re-use the leaves and increase the brew time for each subsequent brew.
Packaging: All orders are sent in resealable packages for maximum freshness and longevity of flavour.
Try a sample of this tea only $4.95 with FREE shipping. Add to order
Product Reviews
Find Similar Products by Category
Customers also viewed