Browse Our Teas
Categories
Shipping Info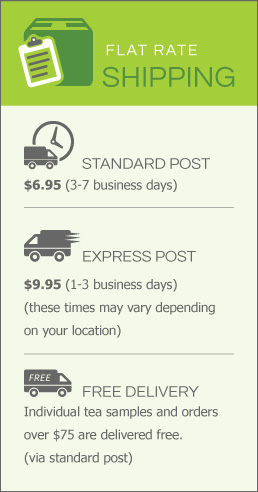 *Applies to Retail Orders Only
Only the Best
✓ Quality Guaranteed
✓ Certified Organic
✓ Safe, Secure Ordering
✓ Fast, Affordable Shipping
✓ Same Day Dispatch
✓ 10% Given Back to Charity
Oolong (Iron Goddess) Tea - Certified Organic
Oolong (Iron Goddess) Tea - Certified Organic
Oolong (Iron Goddess) Tea - Certified Organic
Oolong (Iron Goddess) Tea - Certified Organic
Product Description
100% Certified Organic (Iron Goddess) Oolong: Discover one of the best oolong teas available, known as Iron Goddess it has deep, rich flavours and hits the spot every time while providing all the benefits that Oolong tea has to offer. Spoil yourself today!
Ingredients: Organic Iron Goddess Oolong
Certified Organic: Yes - Why Choose Certified Organic?
Taste: Smooth and complex with wonderful full flavours
Origin: China
Serving Suggestion:
Add 1tsp per cup, brew with water just off the boil for 1-3mins, this kind of Oolong Tea can stand up for 3 brewings
Packaging: All orders are sent in resealable packages for maximum freshness.
Try a sample of this tea only $4.95 with FREE shipping. Add to order
Product Reviews
Find Similar Products by Category
Customers also viewed