Browse Our Teas
Categories
Shipping Info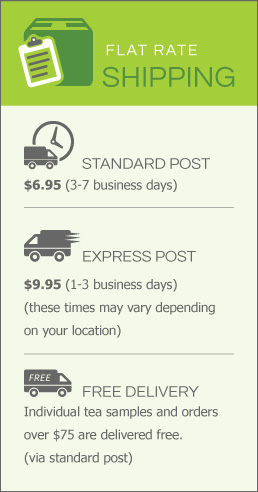 *Applies to Retail Orders Only
Only the Best
✓ Quality Guaranteed
✓ Certified Organic
✓ Safe, Secure Ordering
✓ Fast, Affordable Shipping
✓ Same Day Dispatch
✓ 10% Given Back to Charity
Vintage 2014 Aged Pu-erh Tea - Certified Organic
Vintage 2014 Aged Pu-erh Tea - Certified Organic
Vintage 2014 Aged Pu-erh Tea - Certified Organic
Vintage 2014 Aged Pu-erh Tea - Certified Organic
Product Description
100% Certified Organic Vintage 2014 Aged Pu-erh Tea: Enjoy this premium, organic Pu-erh tea from the most famous Pu-erh tea planting and producing area in China. This Pu-erh Tea is aged since 2014 and grown organically, it has deep and complex flavours that you will enjoy and all of the benefits of Pu-erh. Treat yourself today
Ingredients: Organic Ripe aged Pu-erh tea
Certified Organic: Yes - Why Choose Certified Organic?
Serving Suggestion: For best weight loss effect enjoy pu-erh tea 1 hour after meals
Step 1: Add 3-5grams (about 1tsp) of pu-erh leaves to your teapot
Step 2: Pour boiling water into the teapot, give the tea leaves a rinse for 10 seconds and then drain out the water leaving only the leaves
Step 3: Fill the teapot with boiling water again and cover. Brew for 30sec-1min (adjust shorter or longer according to your taste preference)
Step 4: repeat Step 3 for several cups from the same leaves. Gradually increase steeping time for subsequent brewings

Country of Origin: China
Taste: Smooth, mellow and complex. Satisfying!
Packaging: All orders are sent in resealable packages for maximum freshness and longevity of flavour.
Try a sample of this tea only $4.95 with FREE shipping. Add to order
Product Reviews
Find Similar Products by Category
Customers also viewed