Browse Our Teas
Categories
Shipping Info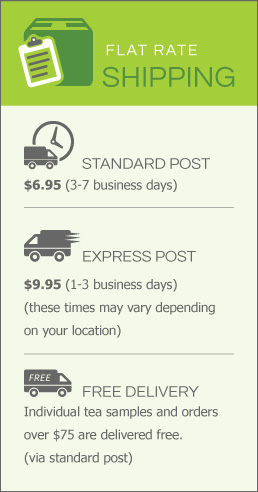 *Applies to Retail Orders Only
Only the Best
✓ Quality Guaranteed
✓ Certified Organic
✓ Safe, Secure Ordering
✓ Fast, Affordable Shipping
✓ Same Day Dispatch
✓ 10% Given Back to Charity
Tie Guan Yin Oolong Tea
Tie Guan Yin Oolong Tea
Product Description
Tie Guan Yin Oolong: Ranked high in the top ten famous teas of China. Tie Guan Yin Tea is so popular that it almost become the pronoun of the oolong tea. It has a very delicate taste and beautiful floral aromas without any "grassiness" or astringency that you can get with green teas.
Ingredients: Tie Guan Yin Oolong
Taste: Fragrant, smooth and complex with a sweet aftertaste
Serving Suggestion:
Add 1tsp per cup, brew with water just off the boil for 2-3mins, this kind of Tie Guan Yin Oolong Tea can stand up for 5-6 brewings.
Liquor: The Tie Guan Yin Tea produces liquor with a pale yellow color.
Origin: Fujian Province, China
Packaging: All orders are sent in resealable packages for maximum freshness and longevity of flavour
Try a sample of this tea only $4.95 with FREE shipping. Add to order
Product Reviews
Find Similar Products by Category
Customers also viewed