Browse Our Teas
Categories
Shipping Info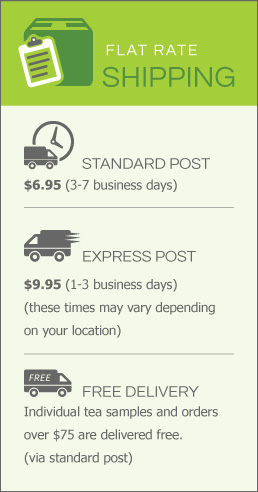 *Applies to Retail Orders Only
Only the Best
✓ Quality Guaranteed
✓ Certified Organic
✓ Safe, Secure Ordering
✓ Fast, Affordable Shipping
✓ Same Day Dispatch
✓ 10% Given Back to Charity
Mao Feng Green Tea - Certified Organic
Mao Feng Green Tea - Certified Organic
Mao Feng Green Tea - Certified Organic
Mao Feng Green Tea - Certified Organic
Product Description
NEW! Certified Organic Mao Feng Green Tea - One of the most famous of Chinese green teas Mao Feng is a delicious and refreshing treat with wonderful aromas from the moment you open the bag to the interesting and lovely flavours that you will look forward to drinking.
Serving suggestion:
Add 1 teaspoon per cup. Brewing temperature should be below boiling point, around 80ºC and brew for 30sec-1 minute. This tea can be re-brewed 2-3 times.
Taste: Clean, lightly sweet (apricot), fresh floral (magnolia) fragrance
Organic Ingredients: Mao Feng Green Tea
Certified Organic: Yes
Country of Origin: China
Packaging: All orders are sent in resealable packages for maximum freshness and longevity of flavour.
Try a sample of this tea only $4.95 with FREE shipping. Add to order
Product Reviews
Find Similar Products by Category
Customers also viewed